Dec
8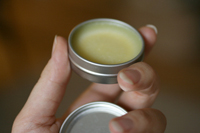 Angry Chicken shares a simple recipe for lip balm. She got all her supplies from Mountain Rose Herbs.
"This batch is a teaspoon of cocoa butter, a teaspoon of shea butter, a teaspoon of almond oil, a little vitamin E oil and about 15 drops of sweet orange essential oil. I melted it all and poured it in the tin. I had to put it in the fridge to get it to set up, but the next morning it was perfect and has been out all day and isn't too soft. In the past, I made this with just beeswax and almond oil, with no butters at all, but I like this batch much better."
By Jessica Dougherty
You may also like...
Comments