Mar
27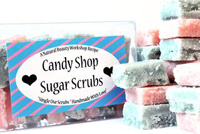 Bath products can be fun, as proven with The Natural Beauty Workshop's recipe for Candy Shop Solid Sugar Scrubs. This simple recipe is for two batches of single use sugar scrubs that are perfect for exfoliating rough spots on your arms, legs, hands, feet, or back. When giving for gifts, be sure to download the free decorative labels.
By Jessica Dougherty
You may also like...
Comments