Dec
17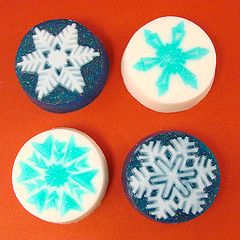 You've seen the Melt and Pour Christmas Ornaments and Hanging Snowflake by Soap Queen. Here is another I found and had to share I know it's another snowflake but this time it's in bar form. Play around with different colours and scents to personalise it.
YOU WILL NEED 
fragrance (Soap Queen used Fresh Snow)
TOOLS
Microwave safe containers for melting soap
spoon for stirring
spray bottle with rubbing alcohol
M&P tool kits (optional – but they sure make it easier!)
Then in 5 easy steps voila snowflake soap bars! Click here to follow a full tutorial complete with pictures.
Once done bag it if it's for a gift and tag it with this free printable download 
Photo Property Of Soap Queen
By Nellie Lee Luhrmann
You may also like...
Comments