Oct
10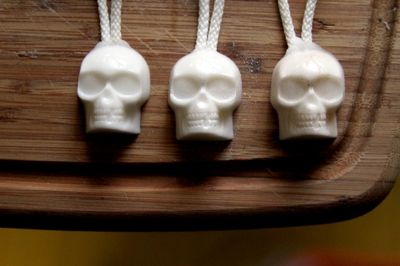 Check out these "Skull" Soap On A Ropes. I found them through  Dollar Store Crafts made using a skull ice cube tray and melt and pour soap this would be a very easy activity for kids. You could give them out instead of sweets ( just make sure you label them as soap and DO NOT EAT ) or leave them in the bathroom to wash up after eating sweets.
YOU WILL NEED 
Silicone ice cube tray (skull shaped)
1/4 pound of white melt & pour soap base per tray of soaps
White shoelaces or jute string
Fragrance oil, optional
Clothespins
Microwavable glass pourable measuring cup
Pop over to Dollar Store Crafts to follow a step by step tutorial complete with pictures and a video. Why not add some glow in the dark powder so you can see them in the dark,  now that would be cool
If you like this project or are looking for more Halloween inspiration pop on over and check out  CraftGossips Halloween Projects 

By Nellie Lee Luhrmann
You may also like...
Comments