Apr
3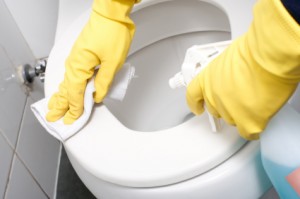 It's day two of our Spring Cleaning series…bathrooms! Nothing like a dirty bathroom to make you feel, well, less than clean. So let's tackle some make it yourself cleaners for that problematic area of the house. Luckily, there are lots to choose from! Let's start with toilet bowl cleaner, from Frugally Sustainable. Savvy Housekeeping shows you how to make liquid hand soap (I love this idea!) Shower spray recipes can be found from Frugal Upstate and Miiow and TipNut takes it one step further and even gives you ideas on how to clean the shower door tracks. And finally, grout, which, let's face it, ought to be a four-letter word. Get Mindful Momma's plethora of grout and tile cleaning ideas here.
By Valerie Silverthorne
You may also like...
Comments