Nov
16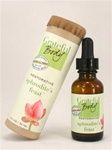 I have a deep love for all things Grateful Body. I love their heavenly cleansers, toners and moisturisers. As you know I am always up for an opportunity to try new products and I was thrilled when Mathea sent me out a bottle of GB's Aphrodite's Feast Restorative for review. This seriously super concentrated restorative delivers 100% natural and synthetic free nourishment fit for a goddess.  Containing 36 phyto-nutrient rich ingredients  such as gotu kola, black fig, kudzu, figwort and gooseberry I was in no way disappointed with the results after using this "serum" What I loved the most ( apart from the obvious ) is that AF ( Aphrodites Feast ) is so concentrated that you seriously only need the tiniest amount 2-3 drops on problematic areas. I could apply it on its own or under my moisturiser depending on my skins varying needs. It left my skin feeling BEAUTIFUL an instant pick me that left my skin glowing. I like to think of it as my secret weapon all women need a bottle of this to combat tired dull looking skin. I can only imagine how good the other restorative/serums are. At $40 a bottle ( money very well spent in my personal opinion ) I can't help but wonder if the modern woman used more products like these there would be no need for botox, chemical peels and all that other rubbish. Follow Grateful Body on FB & Twitter  they are always having sales promotions and discounts want to buy some now well click HERE   and be sure to purchase a sample of their latest product ENZYME CLEANSE  if its like any of the other cleansers I have tried in the past it will be amazing!!
Happy Shopping

By Nellie Lee Luhrmann
You may also like...
Comments