Jun
16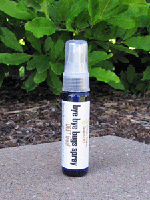 I don't know about you, but the thing I dread most about summer is bug bites. For some reason, bugs love to eat up my legs, feet, and arms. I'm not a big fan of bug sprays containing chemicals, so I was happy to learn of Great Cakes Soapworks new line of natural insect repellents appropriately named Bye Bye Bugs. The repellent is available in three forms, all made with the same effective essential oil blend. There's a handmade natural soap that can be used daily as your regular soap during the summer or just when you plan to be outdoors. The solid stick is easy to use and easy to carry. A spray is also available in a small 1 oz. travel size or a larger 4 oz. bottle. Learn more about these products on Great Cakes Soapworks' blog.
By Jessica Dougherty
You may also like...
Comments