Dec
6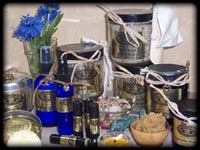 Lily Gulch Soaps is a small, specialty soapmaking company located in the beautiful mountains of Evergreen, Colorado. Soapmaker D'Anna Catterson creates premium quality cold-processed soaps which contain natural glycerin to help retain moisture. Lily Gulch Soaps are made from scratch in small batches with extra virgin olive oil, palm kernel oil, coconut oil, filtered water and sodium hydroxide (lye), rosemary extract as a natural preservative, and are enriched with sweet almond oil. I had the opportunity to sample some of Lily Gulch Soaps' products and was very pleased with them all. The Carrot Complexion soap is great for dry skin & I loved the great smelling Sarsaparilla Root Beer Soap. My husband, Joe, enjoyed the beer shaving soap which left his face smooth & moisturized. I am a lip balm addict & have been thoroughly enjoying the Coffee Chai flavor. Yum! There are tons of great bath & body products to choose from, including the carrot seed complexion oil, sugar face polish, and peppermint lotion bar. And, for a nice relaxing bath, don't forget to grab a bag of fizzie milk bath.
By Jessica Dougherty
You may also like...
Comments