Jan
19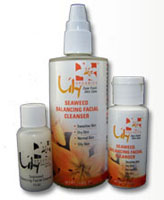 Lily Organics features dew fresh skin care that is beneficial for all skin types. I had the opportunity to sample the Dry Skin Trial Pack that includes a rejuvenating enzyme mask, nourishing facial cleanser, organic rose facial toner, organic moisturizing cream, seven facial rejuvenating oil treatment, and an organic lavender moisturizing cream. All the products are created using pure, fresh, chemical-free ingredients that are grown on Lily's certified organic farm. The ingredients used are seed to shelf insuring every step of quality is top-notch. The enzyme mask really did make my skin feel rejuvenated & the facial cleanser was very gentle and did not dry my skin out at all. I also liked the moisturizing cream that hydrated, but did not cause my skin to feel oily. In addition to the products I sampled, Lily Organics offers many more that can be purchased through the website. And, if you get a chance, check out Lily's book, Beauty, Health and Happiness, which includes beauty tips, over 100 recipes to make your own beauty-care products, and much more.
By Jessica Dougherty
You may also like...
Comments