Dec
22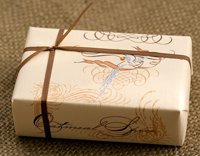 Love & Luck Greetings is a unique stationery company run by husband & wife team Alana and Javier Marmanillo. In addition to greeting cards, the duo creates organic soaps & accessories featuring their original artwork. On my website, Funky Finds, I am currently hosting a giveaway featuring ten greeting cards and one organic soap from Love & Luck Greetings. The giveaway is open to everyone and ends at Midnight EST, Tuesday, December 29. Visit Funky Finds to enter.
By Jessica Dougherty
You may also like...
Comments