Nov
10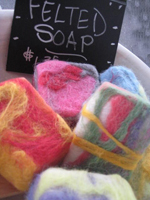 The Ponte Vedra Soap Shoppe posted instructions for creating Felted Soap. If you are unfamiliar with what exactly felted soap is, as I was, it's a soap and washcloth all in one, according to The Ponte Vedra Soap Shoppe. As you lather the soap, the wool remains tight around the bar making it last longer. The felt shrinks along with the soap as you use it, and the casing can be reused by slitting along the edge and inserting a new bar of soap. The Ponte Vedra Soap Shoppe has an extensive list of recipes posted on their site, as well. I could certainly use a solid bar of dog shampoo right now on my stinky dogs!
By Jessica Dougherty
You may also like...
Comments