Feb
1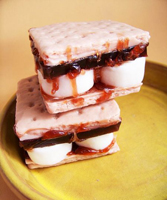 Unique Daily directs our attention to a soap that looks good enough to eat! Love Lee Soaps' Delicious S'more Soap is made using moisturizing glycerin and creamy shea butter. Each s'more is dripping with delicious chocolate soap and is stuffed with marshmallows & has the added scent of chocolate and buttery cookies.
By Jessica Dougherty
You may also like...
Comments