Dec
23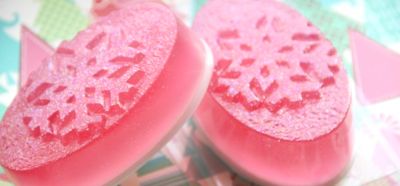 Another pink pretty from How Do I make Soaps page. You don't have to keep it pink either, play around with the colours a bit. I do like this though. To get started you will need the following.
Supplies Needed:
2.   1 pound of clear melt and pour soap base
3.    5 oz white melt and pour soap base
6.   3/4 oz  Creamy Pomegranate Fragrance Oil
6.    Microwavable measuring cup
7.    Fork
8.    Small amount of rubbing alcohol in a spray bottle
For an easy to follow step by step tutorial complete with pictures. Head on over to her page and check it out for yourself
Photo Property of How Do I Make Soap
By Nellie Lee Luhrmann
You may also like...
Comments