Jan
3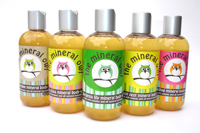 The Mineral Owl offers organic and all-natural skin care products that are infused with essential ionic minerals and rich anti-oxidants that help to promote health and overall well-being. I'm not sure what all those technical terms mean exactly, but I can tell you first-hand that The Mineral Owl's products have done wonders for soothing my dry skin and chapped lips. I felt the body lotion was gentle enough to put on my entire body, including my face. It really did heal my skin quickly and I highly recommend it to anyone. Another favorite product of mine is the lip balm available in a variety of flavors. I am a lip balm fanatic and these met, if not exceeded, my standards. I also had the pleasure of sampling the Vanilla Vixen handmade olive oil soap and was very pleased with it, as well. Co-founders Stacy Ganea and Donna Wohlberg have done a great job at putting together a line of bath and body products that has changed the course of "good for you" skin care.
By Jessica Dougherty
You may also like...
Comments