Mar
29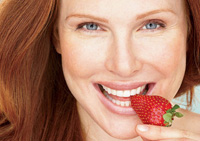 Prevention.com shares The Pretty Skin Diet, naming 11 foods that rejuvenate skin and boost health to boot. Apparently, you really can eat your way to younger-looking skin! For example, a cup of strawberries has up to 130% of the DV of vitamin C, a potent antioxidant that boosts production of collagen fibers that help keep skin smooth and firm. Read on to learn about the ten additional foods that are good for your skin.
By Jessica Dougherty
You may also like...
Comments