Jan
27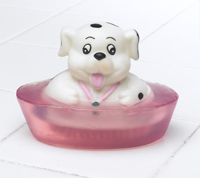 Wett Giggles features 100% natural glycerine soaps that are made using essential oils and shea butter. But what sets these soaps apart is the fact that they each have a nail brush encased in the bar of soap. The fun sudsy soaps encourage good hygiene with kids. The product line includes adorable animals ranging from rubber duckies to purple hippos. Also, Wett Giggles donates a portion of each sale will be donate to Water aid. Talk about good clean fun!
By Jessica Dougherty
You may also like...
Comments