Apr
12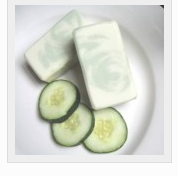 Sometimes we all just need a push…and if you've been thinking about trying to make soap using the cold-process method, or you're already soaping but in need of some inspiration, Bohemian Revolution has got you covered with fourteen CP soap recipes. (There are also a few melt and pour thrown in too…like the luscious sounding coffee and cream soap.)  I particularly like the Vegan Lavender soap recipe and the Cucumber soap (above), but they all look great…so start getting inspired here.
By Valerie Silverthorne
You may also like...
Comments