Jan
5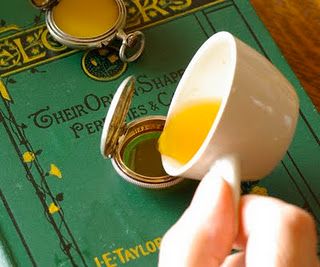 I love perfume balm small, compact yet powerful. Every girl should have some in her handbag for a quick dab here and there when on the run.
I came across this DIY tutorial for a Solid Perfume Pocket Watch via Design Sponge. Not a fan of the Pocket watch concept try a locket or pillbox  the possibilities are endless there is so much pretty stuff out there to choose from.
Now on to the cool part……….
You Will Need
1 1/2 tsp. jojoba oil (available at whole foods and natural grocery stores)
7 drops frankincense essential oil
7 drops of ylang ylang essential oil
5 drops fresh ginger essential oil
6 drops wild sweet orange essential oil
heaping 1/2 tsp. grated beeswax
eyedroppers
small nonmetal pan for melting wax
shot glass or small cup
small compact or pillbox for finished perfume
Pop on over to Design Sponge to follow the step by step tutorial complete with pictures just click HERE
***Photo Property Of Design Sponge***
You may also like...
Comments