Mar
24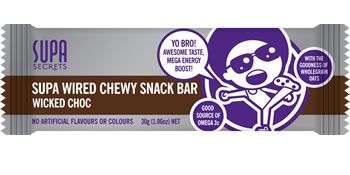 Packing your child a healthy lunch he or she will likely eat feels more challenging than ever before!  The key is to communicate with your child about their dietary likes and dislikes. Sending them off to school with a balance of carbohydrates, proteins and fats, and with enough healthy "treats," will ensure lunchbox success
Sharon Thurins ( Founder  ) launch of the Slim Secrets range in 2006 has been a success beyond her lofty expectations.  Available nationally in supermarkets, Boost Juice venues, health food stores, health clubs including Fitness First venues and now exported globally – with 3 product ranges (chips, bars and cookies),  another 5 brand extensions are planned in the next 12 months.
Milkk PR proudly introduce the first, SUPA SECRETS!
SUPA SECRETS provide better nutritionally balanced snacks for kids that taste great and is a fun brand like the Slim Secrets range. Whilst Sharon still believes that snacks such as fruit, vegetables or similar are a better alternative for kids we know that they will not always satisfy their cravings.
SUPA SECRETS take great care in creating snacks to give kids fantastic tasting food with the right kind of nutrition they need for their growing, active bodies. Both ranges fall within the Healthy Kids amber category which is approved for canteens.
SUPA SECRETS SNACK BARS - Snack bars  available in 2 flavours  "Ballistic Berry" & " Wicked Choc" that not only taste awesome, but have under 115 calories per bar, no artificial flavours or colours, are a good source of omega 3′s, are low in sodium and contain one of my favourite ingredients Chia seeds!!!!! Did I mention they are made with goodness of wholegrain oats?

Thanks to Shereen Kiddle of Milkk PR I was invited to attend the "Official Launch" of Supa Secrets unable to attend at the very last minute I was still lucky enough to be able to try the  "Wicked Chocolate Super Wired Chewy Snack Bar " ( Thanks Shereen )  3 words ……. YUM ….. YUM.….YUM!!!!! Low Calorie Chocolate Heaven, this bar has it's sweetness factor SPOT ON. Like a chocolate muesli bar with hues of coconut minus the boring factor of a muesli bar. The perfect size snack wise with a matching calorie intake. 114 calories to be more precise, 3.4 grams of fat, 85mg of Omega 3′s that is 1/3 of a childs daily intake , 19.4 grams of carbs with only 5grams of those being sugar. 1.6 grams of fibre. With a  $RRP of $1.50 each I would be happy to give these to my boys as a snack, I am pretty sure you don't get great statistics like those above in a "chocolate bar"
Now that the secret is out ………….. click here to see who Slim Secrets walked the red carpet with at the 2010 Oscars
Slim Secrets products are currently available in Australia, New Zealand, Canada, USA, United Kingdom, Singapore, Malaysia, Japan and China
Click here for  stockists. Bars are also available through these Distributors or simply buy them online
You may also like...
Comments