SKU# 127575C
…
Read More ...
SKU# 7310C
…
Read More ...
SKU# 127783C
…
Read More ...
Have you tried bath bombs before? They are no longer little round balls of fizzing citric acid , they are works of art that come in all different shapes and sizes. This book by Leisure Arts   Shares some of the … Read More ...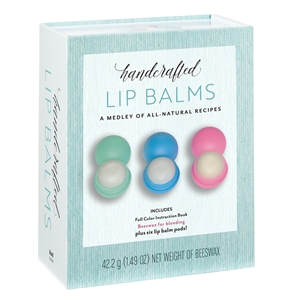 DIY natural beauty has never been easier, or more fun! Handcrafted Lip Balm includes the pods, beeswax, and mold to make your own all-natural lip balms, with instructions to make 12 different types, each with its own flavor and benefits. … Read More ...
Girls Home Spa Lab
: by Mata Pagan
We love our DIY body recipes and I love the concept of setting up our tweens for DIY products too. Recently I asked my daughter to tell me what was the main … Read More ...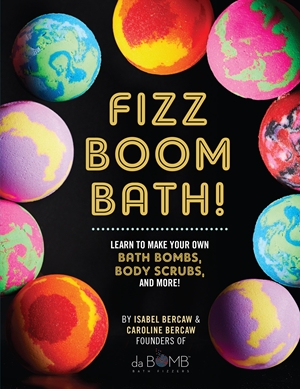 Bath bombs are the perfect reward for a long hard day, but they can be expensive and you don't always know what they're made of. Now, you can create your own fizzing bath bombs, aromatherapy fragrances, face masks, and more … Read More ...

The Complete Idiots Guide to Making Natural Soaps

ISBN: 1101197846
Soapmaking has always been a popular craft with a dedicated group of followers, but with the explosion of urban homesteading and people looking to go green, noncrafters are now joining … Read More ...
Jessica Ripley posted a review of Basic Soap Making
by Stackpole Books on the Craft Critique website. Craft Critique is a collective of experienced crafters (some professional, most not) with strong opinions to share on the craft supplies you want … Read More ...
Debbie Chialtas of Soapylove has published her first book, SoapyLove: Squeaky-clean projects using melt and pour soap
, and it does not disappoint!  SoapyLove is not only a great introductory book for the beginner melt and pour soap crafter, but … Read More ...
Office Yoga: Simple Stretches for Busy People

by Darrin Zeer
Office Yoga: Simple Stretches for Busy People is a collection of simple yoga stretches designed for those who are desk-bound the majority of the day.  The stretches, as asanas as … Read More ...
Dorm Decor: Remake Your Space with More than 35 Projects

by Theresa Gonzalez and Nicole Smith
Published by Chronicle Books
$19.95
I received a copy of the fabulous Dorm Decor from Chronicle Books recently and was instantly excited by … Read More ...
Stencil 101: Make Your Mark with 25 Reusable Stencils and Step-by-Step Instructions
Author: Ed Roth
Publisher: Chronicle Books
Chronicle Books has published another wonderful craft title with Stencil 101
.  The author, Ed Roth, is a graphic designer based in … Read More ...
A brand new soapmaking magazine, Let's Get Soapy, is here!  Created by Debbie Chialtas of Soapylove, Let's Get Soapy is a quarterly magazine dedicated to melt and pour soap crafts.   The inaugural issue features projects inspired by some of the … Read More ...
Kaari Meng of French General has put together another great book of projects, this time a collection of designs for the home entitled French General: Home Sewn, published by Chronicle Books. I was interested to see what projects would … Read More ...